Many thanks for the tremendous success of the 9th Annual Heat It To Beat It!
Donations to support this event are still being accepted. Simply click on the Donate Now button to continue.



2.2 Mile Walk or 1.1 Mile Walk
Sunday, September 23, 2018
7:30 am
Rain or Shine
The Maryland Zoo in Baltimore
1 Safari Place, Druid Hill Park, Baltimore, MD 21217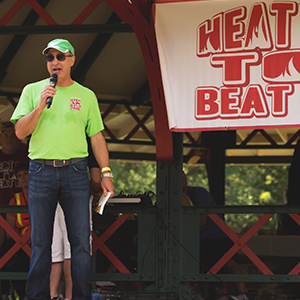 Armando Sardi, M.D., Director of the Institute for Cancer Care at Mercy Medical Center and his colleagues, Dr. Vadim Gushchin and Dr. Kurtis Campbell, are among a finite group of surgical oncologists in the United States considered experts in the treatment of peritoneal carcinomatosis using heated intraperitoneal chemotherapy, known as HIPEC. For many patients, this surgery is the only chance of long-term survival; however, there is a lack of awareness about the disease and patients are often misdiagnosed and do not receive the most appropriate treatment.
Our Mission:
To provide exceptional clinical care for patients with advanced abdominal cancers through compassionate, individualized treatment from a multi-disciplinary team of specialized physicians and staff dedicated to improving patient quality of life and survival.
To increase awareness and the appropriate medical management of peritoneal surface malignancies through education and research.
To cultivate an atmosphere of hope and healing for patients and their families from diagnosis through survivorship.
Peritoneal carcinomatosis (PC) is a common and complex presentation of a variety of cancers within the abdominal cavity. This cancer can originate from tumors of the appendix, colon, rectum, ovary, stomach, small bowel, and from primary peritoneal tumors and mesothelioma. Heat It to Beat It is a patient-directed walk to raise awareness and funding for peritoneal carcinomatosis research and education.
Since its inception in 2010, Heat It to Beat It has raised over $1,000,000 to support research led by Dr. Sardi. Now, in its ninth year, this patient-led event is focused on generating awareness for the life-saving HIPEC treatment. This special event unites patients, their families and friends, and clinicians who come together to share their experiences with other survivors, while raising funds to support clinical trials and the surgical oncology research scholar program at The Institute for Cancer Care at Mercy.
We invite you to share your support for Heat It to Beat It by registering to walk, forming a team, or making a donation. When you support Heat It to Beat It you become part of the movement to advance research and awareness of the life-saving HIPEC treatment for peritoneal carcinomatosis.
To learn more about research trials supported by Heat It To Beat It at Mercy Medical Center, please click here.
To read patient stories, please click here.